The Uses & Benefits Of Appointment Schedulers For Small Businesses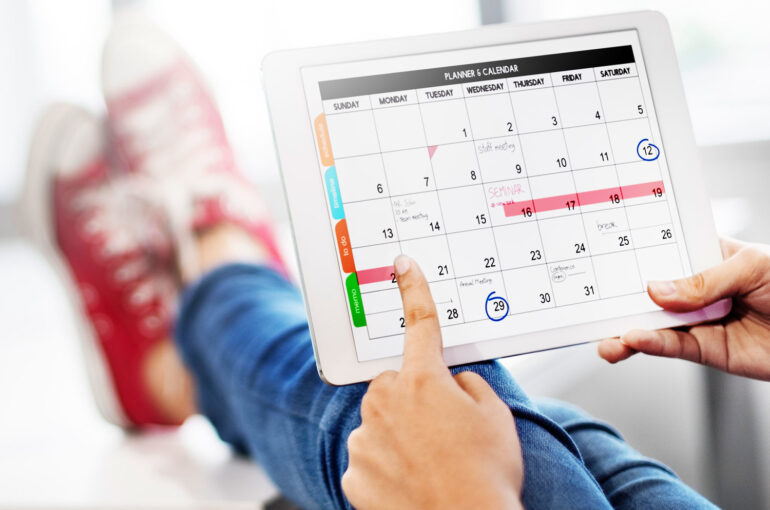 If your business relies on client appointments, then continuously improving your booking rate is a must. Bookings lead to more traffic, which translates to higher revenues, more money in the bank…
And… well, you get the picture.
Now, there are many ways to increase client appointments. You can advertise your business, create a referral program, or beef up your marketing efforts. But while all these tactics can be effective, your efforts may fall short if you don't have the best booking system in place.
This is where having a small business appointment scheduler comes in.
With the right reservation platform, you can boost your business' efficiency, save time and money, and serve your clients better.
In this post, we break down the ins and outs of online booking software. You'll learn what it is, why it's important, and the top benefits of having an online scheduling tool in your small business.
What we'll discuss:
What Is an Online Appointment Scheduler?
Why Should a Small Business Use Appointment Booking Software?
What Features Should You Look for in a Solution?
What Is an Online Appointment Scheduler?
An online appointment scheduler (sometimes referred to as online scheduling software or booking software) is an app or tool that allows your clients to schedule appointments through an online portal.
In many cases, online booking platforms also come with business and calendar management capabilities that make it easy for you and your staff to stay on top of your appointments, clients, and business in general.
Why Should a Small Business Use Appointment Booking Software?
Your business can benefit tremendously from having the right appointment solution. Consider the following advantages:
1. 24/7 Appointment Scheduling
Having an online appointment scheduler enables you to take bookings at all hours, which can be a big boon for your business.
Today's consumers appreciate the ability to reserve appointments outside the usual 9 to 5. Research shows that 35% of clients prefer scheduling appointments during non-business hours, and 40% of online bookings actually happen after hours.

The bottom line? People want to reserve their appointments when it's most convenient for them, and in today's busy and fast-paced environment, that can often mean doing it outside traditional business hours. Since you can't sit by the phone 24/7, an appointment scheduler enables you to attract clients even when you're not on-site.
2. An Easier Booking Experience
The traditional way of booking appointments can be quite cumbersome and involve a number of back-and-forth communication between you and your customers.
For starters, the client has to pick up the phone, inquire about available time slots, and then make a reservation (this is assuming that you're on the other end to take the call). You, the service provider, would then need to manually take down the customer's information, and you also have to be diligent about following up so they don't miss their appointment.
The process not only takes a lot of time, it also leaves room for human error and miscommunication. What if the client forgets about their appointment and misses your reminder? What happens if you end up accidentally booking two customers for the same time slot?
Such issues don't just put a strain on your operations; they can also diminish the overall client experience. And since the last thing you want is to deal with unhappy customers, it's worth investing in a solution that paves the way for a smooth booking process.
By using an appointment scheduling portal that your customers can access on their own time, you eliminate the back and forth of traditional booking.
The software displays the services you offer and all available time slots, so your customers can reserve the time that works for them. Most solutions also have the ability to automatically add appointments to your calendar (as well as your clients') so everyone is on the same page.
Additionally, many scheduling platforms can send reminders to your clients to help ensure that they make it to their appointment. And should something come up, your customers can easily reschedule through your portal instead of having to pick up the phone and go through the back and forth process all over again.

Psst…tited of scrolling? Check out the video to get the info faster!
3. Fewer No-Shows
For service-based businesses, no-shows aren't just minor inconveniences — they are missed revenue opportunities and they represent a lot of wasted time and effort.
If your business is plagued with no-shows, get yourself an online booking app that sends automatic confirmations and reminders. In a study on the effectiveness of SMS appointment reminders, the American Congress of Rehabilitation Medicine found that no-shows decreased by 39% when facilities sent out text reminders.

Another way to reduce no-shows? Take the hassle out of rescheduling or canceling appointments. Once again, your booking software can be a huge help here. By allowing your customers to change their reservation online (instead of doing it over the phone), you're making it easier for them to reschedule.
4. Better Google Visibility
If you're operating a business with a physical storefront, local search traffic is something that you'll want to capitalize on. According to Google, "near me" searches — i.e., queries from users looking for products or businesses in their area — have grown 500% in 2017, which tells us that people are increasingly using the search engine to discover local businesses.

Having a strong online presence in today's Google-centric world can do wonders for your business and allow you to get in front of potential customers in your neighborhood.
Fortunately, accomplishing that is pretty easy if you have the right appointment booking software. Genbook, for example, is part of a program called Reserve with Google (RwG), a service that lets consumers search for businesses and then book online appointments through Google Search and Maps.
Google helps promote participating businesses on its booking platform by including them on the Reserve with Google website. And if a company is part of the RwG program, Google adds a "SCHEDULE" button next to its listing so clients can reserve an appointment without having to leave the site.
Here's an example of Reserve with Google in action. Manly and Sons Barber Co., a barbershop in Venice CA, is part of the Reserve with Google program. As such, Many and Sons' listing has a "See Schedule" button, which lets users book appointments straight from Google.

The whole process is quick and easy for customers because they won't have to leave the site. Meanwhile, appointments are automatically synced with Manly and Sons' appointment scheduler (Genbook), so managing the reservation is virtually effortless for the business.
5. Marketing Made Easy
Advertising and marketing dollars are rapidly moving online and for good reason: people are now consuming more content on the web. To that end, having a digital marketing strategy is no longer "nice to have" — it's practically mandatory. If you want to get the word out about your business, you need to put in your efforts into web-based activities.
Online scheduling solutions can make this lot easier, not to mention more effective. Having a scheduling URL gives potential customers a clear destination when they click on your ads or social media posts. So, instead of sending them to a generic or poorly-designed website, you're leading your customer to a page that puts them on a fast track to actually booking a service.
Consider BB Artistry Spa, a Chicago-based spa and Genbook user that specializes in eyebrows and skincare. Barbara Anne, the owner of the business, promotes her website on Instagram, but instead of posting a link to a page that isn't optimized for conversions, she chooses to link to her spa's booking portal so users can immediately view her services and availability,

Consider doing something similar. If you're marketing your business on social media or through online ads, use landing page URLs that take your customers directly to your small business appointment scheduler where they can easily reserve their appointment. (And if you don't have an online scheduling portal yet, find a solution that lets you create one!)
6. Better Insights into Your Business
What's your most popular service? What are the busiest days and times in your business?
Most solutions (the good ones, anyway) offer booking data and analytics so you can easily answer these questions and extract insights to take action on.
For example, if you're aware of your peak business hours, then you can schedule employee shifts more effectively. Or if you've figured out what your least popular services are, then you can determine the best way to market them.
Can you do all that with a traditional booking system? Sure, but pouring over physical calendars and appointment books is a tedious task. Having your appointment software automatically surface the insights you need will save you tremendous time and effort.
And this brings us to our next point…
7. Time (and Paper) Savings
If you ever feel that there aren't enough hours in a day to run your business, you're not alone. A survey from management consulting company The Alternative Board found that 60% of small business owners would like to have more time, with 39% saying that dealing with paperwork is the biggest time waster.

If you're in the same boat, one of the steps you can take to get more hours back in your day is to implement online scheduling. Since web-based booking platforms enable you and your customers to do everything online, you can spend less time penciling in dates and contact details and devote more energy to serving your customers and growing your business.
Not to mention, you won't have to deal with traditional appointment books and calendars, which means you can cut back on paperwork. It's a win for you, your customers, and the environment.
8. Multi-Channel Appointment Scheduling
Modern consumers are constantly switching between channels and devices when they research, browse, and buy products and services. It's not uncommon for a customer to see a salon's storefront in person, check out their website on their computer, and eventually book an appointment online using their phone.
Staying competitive in today's tech-driven environment requires you to keep up with consumers across multiple channels. Having a small business appointment scheduler that works online and on mobile helps you accomplish that and ensures that you can be there for your clients no matter where they are and what device they're using.
A great example of this in action comes from Saving Face Esthetics & Waxing Bar in Florida. The company uses Genbook's online scheduling platform which lets it create booking pages that look and work great across desktop and mobile screens.

9. Reduced Human Error
Committing mistakes — such as writing down the wrong phone number or scheduling a client for a different time slot — can be embarrassing. Not only that, but these errors can also lead to unhappy customers.
Here's the good news, though: human errors are largely preventable if you have the right systems.
This is where your small business appointment scheduler comes into play. A small business appointment scheduler automates tasks such as recording customer details, adding appointments to your calendar, and sending reminders, so you and your team will have a lot less manual work to deal with. That, in turn, results in fewer human errors and better client experiences.
10. More Growth Potential
Businesses that automate their appointment scheduling process typically see higher growth compared to those that don't.
Why? Consider the following:
More successful bookings – Having an online scheduling system helps you win over consumers who prefer to book their appointments over the internet.
But it's not just about getting more bookings. Since online appointment systems can also send automatic follow-ups and reminders, your booking system can increase the number of completed appointments, which means you bring in more business.
Happier customers – There's a reason why people love online booking: it's more convenient for everyone. Aside from reducing back and forth communications, web-based scheduling lets clients reserve their appointments on their own time and pace.
All this to say that giving people what they want (i.e., online booking) and making sure that experience is seamless, will lead to happier customers who are more likely to come back.
Higher profits – Streamlining your booking process can reduce admin work and human error, so you can spend less time and money on tedious tasks. That can translate to a higher bottom line and a healthier business overall.
What Features Should You Look for in a Solution?
We discussed this topic at length in our in-depth guide on appointment scheduling software, but here's the CliffsNotes version.
While each business is unique, for most service-based companies, the following capabilities are a must when shopping for an appointment scheduler:
Features That Maximize Booking and Attendance
The solution should make it simple for you and your clients to manage appointments. In addition to an online booking portal, see to it that your appointment scheduler has features like appointment confirmations, reminders, waitlists, and more.
Put it simply, your online booking solution should go beyond just letting people schedule appointments. It should also help manage your booking, maximize attendance, and reduce no-shows and cancellations.
Marketing
Speaking of maximizing your bookings, your software should have features that enable you to market your business with ease.
These capabilities can include:
A booking link that you can easily share
Social media booking buttons
Google booking capabilities
Staff Management
This is critical if you manage a team. Your online appointment scheduler should be able to support multiple users and allow them to view and manage their calendars as well as communicate with clients if necessary.
Another important feature to look for is permissions management. Depending on how your business is set up, your software should enable you to set different levels of access, depending on the role of each team member.
This helps keep your system tight and secure.
Payment Processing
Your scheduling software should have payment processing features that allow you to take payments on the platform.
This feature is critical, especially if you take deposits at the time of booking or if you charge late, cancellation, and no-show fees.
Online Appointment Scheduling Is the New Normal
The costs of implementing online bookings are tiny compared to the revenue opportunities and savings you'll gain when you switch to a web-based appointment scheduling app.
If you're still doing things the manual way, it's high time to make the switch. Check out Genbook, a small business appointment scheduler, and management software with a ton of features for staying on top of your bookings, increasing your visibility, and boosting your reputation.
Digital Solutions – For further enquiries on any of our expertise or services, whether it is for website design & development, mobile application development, or digital media marketing, please feel free to contact or WhatsApp +6012-2428878, email [email protected] or visit digitalsolutions.com.my. Thank you.